adidas Golf Introduces Special Edition Silver BOOST™ Colorway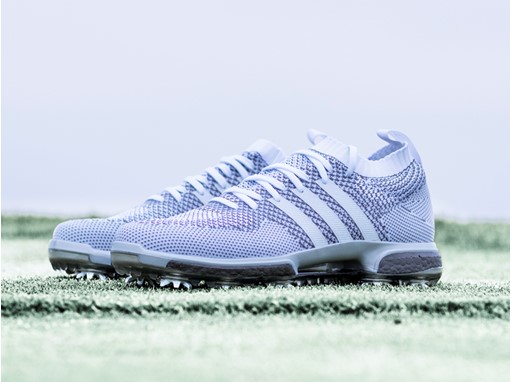 CARLSBAD, Calif. (May 7, 2018)  -- New colors continue to find their way into adidas' BOOST™ technology on the golf course. Today adidas Golf announced the availability of a special edition silver BOOST colorway, providing an additional style option and clean look for the best cushioning in the game. The new colorway is available now in adidas' iconic TOUR360, TOUR360 Knit and Crossknit 2.0 models. adidas athletes competing in THE PLAYERS Championship this week will also be wearing select models of the silver BOOST during competition on Friday with a special white and silver head-to-toe look.
The silver colorway is a first for adidas Golf, but marks the second installment of colored BOOST to enter adidas Golf footwear following the introduction of the special edition black BOOST colorway in March. These select models will be featured in a white and silver colorway, providing players with a premium and clean look for the unrivaled BOOST technology while making their way around the course.
"Having additional colors for our BOOST technology is something all golf fans have been waiting for," said Masun Denison, global footwear director, adidas Golf. "We saw amazing interest around our special edition BOOST colorway we introduced in black, and know that this silver version will be yet another great style option for those looking to wear the best cushioning in the game."
The BOOST technology, proprietary to adidas in partnership with BASF, provides cushioning in the form of highly elastic thermoplastic urethane (TPU) pellets that are then fused together with heat and molded into the midsole shape for each specific model. There are numerous benefits that BOOST offers, but incredible energy return, unmatched cushioning and comfort along with long-lasting durability are the key highlights that players everywhere enjoy. Playing the game and walking the course is now more comfortable than ever before.
The special edition silver BOOST colorway is available now and will be featured in the TOUR360 ($210), TOUR360 Knit ($190) and Crossknit 2.0 ($160) models. All shoes will be available at adidas.com and at select retailers nationwide.